Writing Strategies & Marketing Your Work
About This Course
Thoughts swirl around in your head. Ideas come and go. Personal journaling is a great way to transform those ideas, thoughts, and feelings into words. You, though, have a greater desire to share your story as you reflect on experiences and expertise. You want your voice amplified but there's some hesitation. Or you already blog and have a desire to be just a little BETTER in all aspects of the whole writing process. Does this sound like you?
In this course, join Livia Chan and Kari Pitstick as they explore the 5 W's of writing and understanding yourself first. Then dive into a multitude of tangible tips and takeaways for things to consider BEFORE, DURING, and AFTER you write. Learn about a writing framework to BETTER understand the thought process as you write. You're not done just yet! After your work is published, discover effective marketing strategies to share your published work!
Included in this course
DYRIO Reminder (PDF Download)
Heart Map Worksheet (PDF Download)
Writing Thought Process (PDF Download)
43 Video Lectures
Official Certificate of Completion
Digital Badge to show off your awesomeness
ENROLL NOW for access to a comprehensive list of tips and strategies for improving your writing and marketing your work!
Within this course, you will:
discover the 5 W's of writing & understanding yourself
learn 5 writing tips BEFORE you start
dive into 5 things to consider BEFORE you write (generation & recording of ideas)
dive into 7 things to consider DURING writing (tangible tips)
dive into 3 things to consider AFTER writing (revision stage)
explore 7 ways to market your work once published
Cost: $49 USD
---
Guest Blogger Orientation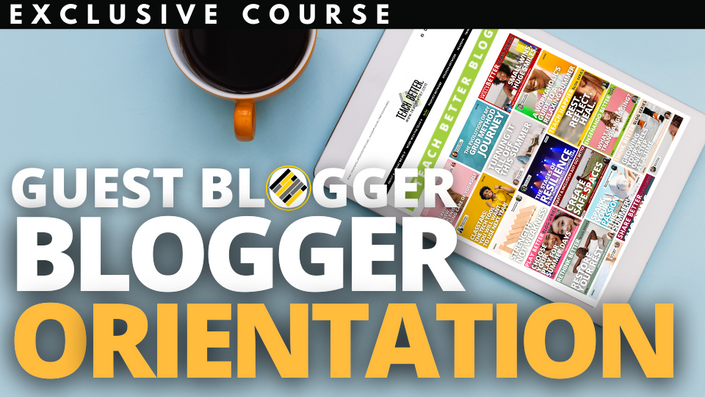 About This Course
In this course, join Livia Chan and Kari Pitstick as they explain the life cycle of a guest blogger's blog post and offer some writing tips and tricks along the way. What happens to your blog post once it is submitted for pending review through to it being published? Learn how to effectively navigate in WordPress.
This course was created exclusively as an orientation for guest bloggers on the Teach Better Team. It is not available to the general public. Join our blogging team to take this course!
Included in this Course
27 Video Lectures
Official Certificate of Completion
Digital Badge to show off your awesomeness
Cost: FREE as a guest blogger